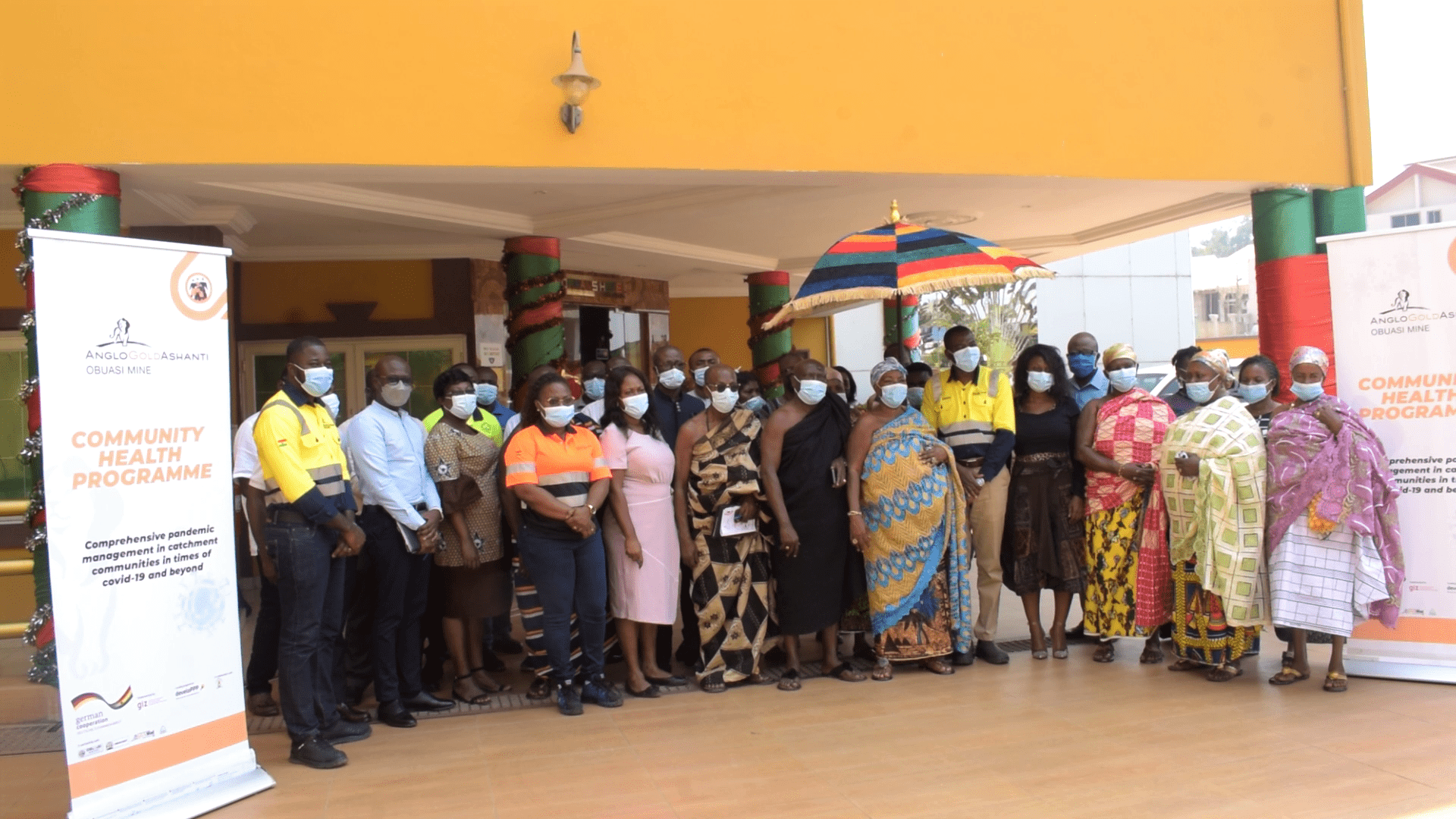 Anglogold Ashanti and GIZ launch community health program in Obuasi
Anglogold Ashanti Obuasi Mine, together with the German Society for International Development (GIZ), has launched a community health program to address health issues in the mining community.
The intervention aims to build the economic and health resilience of members of the mining community against current and future pandemics.
The community health program is being implemented alongside Anglogold Ashanti's ten-year socio-economic development plan.
The initiative is under the theme, "Comprehensive Pandemic Management in Watershed Communities in the Time of COVID-19 and Beyond."
The initiative would not only focus on the current pandemic, but on other health-related issues.
"Obuasi was one of the cities that handled COVID-19 management perfectly. Nevertheless, we have seen the impact on our healthcare system. With this lesson, we will certainly have the opportunity to improve what was missing. There was a lack of medical and personal protective equipment at the start of the pandemic," said Emmanuel Baidoo, senior sustainability manager at Anglogold Ashanti.
"We are looking to build that capacity. Also as part of the project, we are considering supporting the expansion of the facilities in collaboration with the Obuasi Health Directorate to find out what the priorities are and what resources we can provide to support them," he said. declared.
The partnership envisions improved medical care, increased health literacy within the Obuasi Mine watershed community along with proactive preparedness against a future global outbreak.
The 3-year project aims to support the establishment of a screening and infectious disease center and detention rooms for eight public health facilities in Obuasi.
Technical Advisor to GIZ's Development Programme, Mary Bonsu says collaboration is for the collective good of health care delivery in mining communities.
"Mining communities are mostly deplorable, with a number of vulnerable residents. The mine is already doing good work on vulnerable people. However, GIZ also wants to push and put more resources so that we can do more to support vulnerable people in these mining communities.
"Most residents are facing the challenges of COVID-19, adequate space and reduced access to health care. So we intend to strengthen the health system in these areas," she said.
Obuasi East Health Branch Director Delphine Gborgblorvor described the intervention as timely and would increase health care delivery in Obuasi.
She advised residents to refrain from self-medication.
"There was adequate and comprehensive emergency preparedness against COVID-19 when the pandemic hit us. So we rushed in the wake of the pandemic. This project is really going to help us have a comprehensive emergency preparedness plan. This will help Obuasi for any medical emergency," she said.
The program would particularly contribute to the achievement of Sustainable Development Goals 3 (health), 8 (decent work and economic growth) and 17 (partnership for the goals).
The local traditional council in the area congratulated the management of AGA for this initiative.