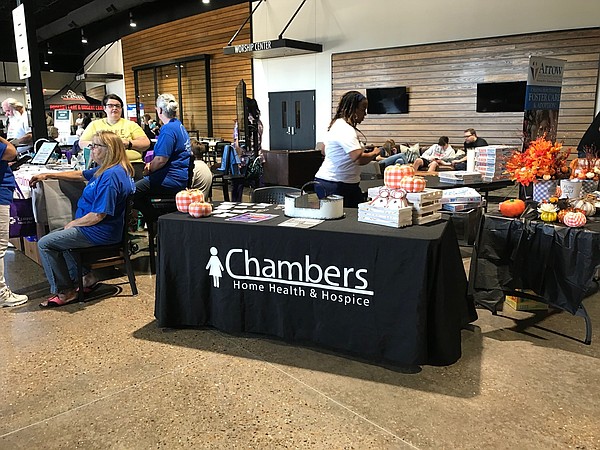 Church On the Rock Hosts Its First Community Health Fair
TEXARKANA, Texas — Spiritual health went hand in hand with physical health Saturday at the first Church On the Rock Community Health Fair.
Fifty-five vendors from the Texarkana area gathered in the church foyer to spread information about their services.
"We just started brainstorming ideas earlier this year because we wanted to reach out to the whole community and let them know we love them," said Dylia Mills, who leads the organization Senior Adults Living Triumphantly ( SALT) from the church with her husband. , Larry.
Mills said the fair had been scheduled for next month but was moved to September to avoid scheduling conflicts between vendors and organizers.
"We plan to have next year's fair in October when the weather is milder, and we plan to hold it here at the church," she said.
Vendors included family practice services, exercise clubs and financial advisers. Mills estimated that several hundred people visited the four-hour fair, which started at 10 a.m.
Saleswoman Sheerie Graves recently launched the nonprofit Divinity Help, which distributes bag lunches to people in need. She was impressed with the turnout.
"There was a lot of turnout, and the proceeds all go to giving away bag lunches," she said.
——
PARTICIPATING SUPPLIERS
Texarkana Affordable Health Care; Resource Center on Aging and Disability; the Alzheimer Alliance; Ark-Tex regional agency on ageing; Arrow Foster Care Group; Brandon Cowan Medicare Supplements; Brookdale Life Assistant; Celebrate recovery; Chase Livingston's personal trainers; CSFP Senior Box Program; Chambers Home Health Care; CHRISTUS St. Michael Health System; Elderly care CHRISTUS; Spirit of CHRISTUS Van; Pregnancy Center; Help Divinity; Prevention of domestic violence; Eastern Funeral Home; Elara Home Health Care; encompass health; Call the host family; For the love of one; Genesis Prime Care; Grace House; Gymbox Fitness; Grace Couseling PRN; Health Express; HCE sports complex; Texarkana Hospice; Children's area; Freedom Ministries; LifeNet; LifeShare Blood Center; network of partner resources; Planet Fitness; Prodigy Yoga; prayer teams; American Red Cross; Riverview Behavioral Health; Ross and Shoalmire Law Firm; Roy Autrey Medical Supplements; Shaklee; Texarkana Sitters; Southern Rehabilitation Clinic; Super-care; Host family Syvel Werson; Texarkana Texas Fire Department; Texarkana Funeral Home; health coach Tina Tannehill-Curtis; Tough Kookie Foundation; Trex; and Vidaly and Young Living essential oils.
——
FROM OUR ARCHIVES
What motivated Sheerie Graves to launch Divinity Help? Read the story online here.