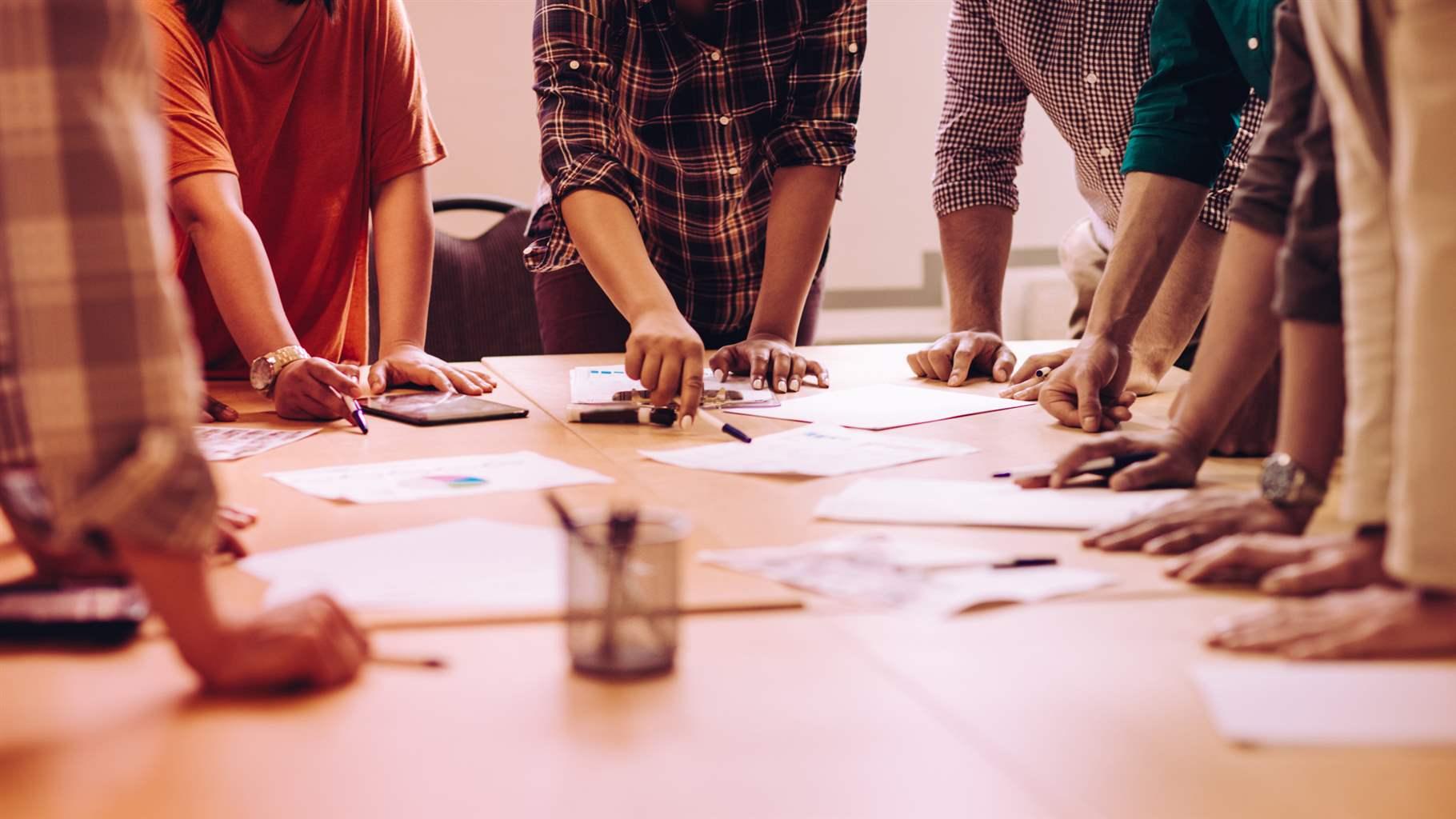 Collaborators Report on Successes and Challenges in Addressing Community Health Inequalities
Effective collaboration between sectors of society, such as public health, housing, transport and social services, to address health inequalities requires time, resources and expertise, as well as a shared vision between the stakeholders. These are some of the main conclusions of an evaluation of Calling all sectors, state agencies united for healthan initiative of the Health Impact Project, a collaboration between the Robert Wood Johnson Foundation and The Pew Charitable Trusts.
Calling All Sectors has awarded grants to nine states and Washington, DC, to create and support cross-sector and multi-agency teams to reduce inequities in maternal and child health. These health inequalities are avoidable differences in the burden of disease, injury, violence, and opportunities to achieve optimal health that are caused by social, economic, and environmental factors.
The initiative started in 2019 with two main objectives. The first was to create lasting changes in culture, mindset, and infrastructure at the state or jurisdictional level so that cross-sector work becomes the norm. And the second was to implement evidence-based models, policies and practices to address the social and economic drivers of gaps in maternal and child health and wellbeing. The program provided two-year grants to state agencies and community partner organizations to form teams that included local actors from multiple sectors and people with lived experience from their communities. Together, the teams identified the social determinants driving health inequities for mothers and infants; explored gaps in data, partnerships and services; and developed plans to fill the gaps.
During the evaluation process, analysts examined the experiences of Calling All Sectors grantee team members – through surveys, interviews and focus groups – to assess whether the initiative has increased the capacity of partners to help reduce inequalities in priority groups, as well as specific factors that may have enabled or inhibited these efforts.
Key Findings Highlight Strengthened Relationships
First, grantees indicated that participation in group meetings, webinars, peer learning, and technical assistance activities helped foster relationships and connections between core team members and local stakeholders. The process also helped to create conditions for collaboration based on communication, trust and commitment. State agencies reported more engagement with community partners and people with lived experience, as well as an increase in shared decision-making with these partners, than before the initiative.
Second, flexible funding allowed participants to devote staff, time and resources to developing the knowledge they needed. For example, the DC team hired a health equity fellow specifically to coordinate efforts between multiple city agencies and their community partner, community of hope, to reduce homelessness among pregnant and postpartum women. The Virginia team, for its part, worked with the Virginia Neonatal and Perinatal Collaboration and the Virginia Hospital and Health Care Association provide grants to establish new partnerships between birthing hospitals and community organizations to reduce inequities in access to prenatal and postpartum services statewide.
Third, state agencies worked closely with their community partner organizations to better define key issues and develop shared visions for equitable solutions. For example, in Washington State, Washington WIC (the Special Supplemental Nutrition Program for Women, Infants, and Children) has partnered with a social service provider Byrd Barr Square to engage WIC and WIC-eligible participants and stakeholders to increase enrollment rates among African Americans. New Jersey worked with South Jersey Community Doulas understand the resource and referral needs and experiences of pregnant and postpartum women.
Recipient teams in Mississippi and Louisiana held listening sessions with black women about their childbirth experiences to understand inequities in care and services. And teams in Colorado and Michigan worked closely with their partner organizations, the Association of Family Resource Centers and Focus: Hoperespectively — to identify inequities in agency decision-making processes and to develop tools that promote more equitable outcomes.
Finally, beneficiary teams worked to identify the data needed, which quickly became a top priority. The Minnesota team, for example, conducted "systems mapping," an analytical tool that allowed them to identify gaps in data, policies, and services for pregnant and postpartum women in childbirth. roaming. The Kansas team used a similar approach to better understand the needs and circumstances of pregnant and postpartum people with substance use disorders, and the organizations and providers that serve them.
Since the COVID-19 pandemic only started a few months after the teams began their efforts, the initiative offered them additional time, flexibility and resources. The Health Impact Project extended the grant period, provided additional funding to help meet basic needs on the ground, and allowed grantees to modify their work plans to reflect changing circumstances. According to participants, this flexibility was critical to the ability of their teams to build strong foundations for cross-sectoral work and to develop sustainable, community-driven strategies and solutions. Given the complexity of this work, similar initiatives would likely benefit from such an approach, even without the difficulties caused by a pandemic.
Participants identified challenges they had or areas where the program could improve. Grantees wanted more technical assistance related to collecting, sharing and measuring data from the start of the initiative, as well as more personalized and project-specific support, given the wide variation in needs and strengths of the beneficiaries. Assigning a team of coaches with subject matter expertise relevant to recipients' areas of interest and needs could be one strategy to achieve this. In addition, longer grant periods are needed for work targeting systemic issues. When shorter timelines are needed, the focus should be on building a foundation that lays the groundwork for systems change.
Ruth Lindberg directs and Maura Dwyer works on The Pew Charitable Trusts Health Impact Project.