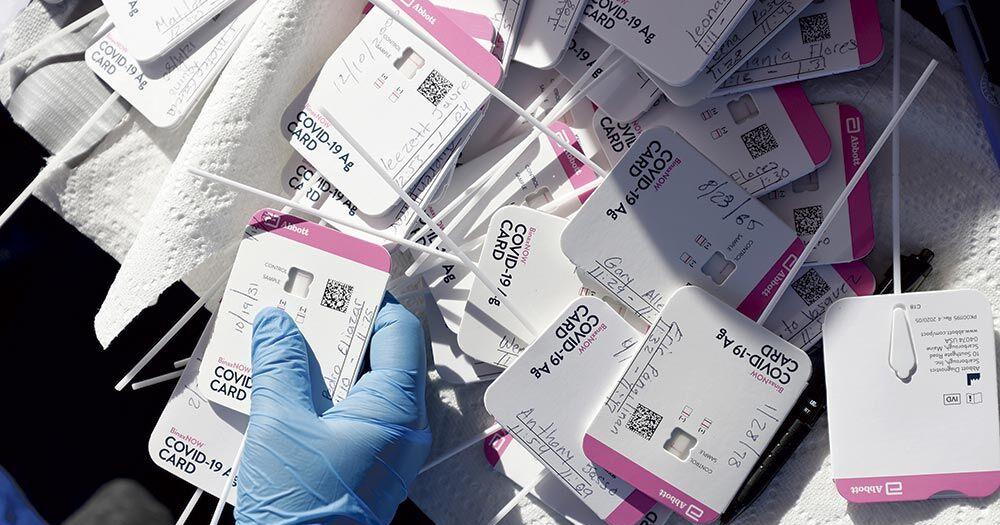 A community health worker program launched to help fight the spread of Covid-19 and rethink the way health information is disseminated. | Cover collections
ON A WEDNESDAY ON AN AFTERNOON IN JANUARY, DOZENS OF PEOPLE QUEUE OUTSIDE THE SEASIDE GROCERY STORE WAITING TO GET A RAPID COVID-19 TEST. It's a line that goes 20 deep until it wraps around the building. The day before, a line wrapped around the block at a rapid test site in La Chiquita, a market just up Fremont Boulevard.
A group of community health workers from the VIDA project work in a small tent, equipped with masks, gloves and wearing matching blue T-shirts. They're helping people sign up for tests, get swabbed, and then produce results in minutes, for the hundreds of people who show up at each testing site every day during the omicron surge.
VIDA was a program launched to address the impacts of Covid-19, especially among the county's most vulnerable population. It is a collaborative program, integrating workers from different local organizations, including Lideres Campesinas, The Village Project, Building Healthy Communities and others.
The program has evolved since its launch in January 2021, adapting to the needs of the ever-changing pandemic. VIDA was initially funded by Monterey County with $4.9 million, plus an additional $300,000 from Together Toward Health and $125,000 from the Community Foundation for Monterey County, which administers the program. Another $3.9 million federal grant for health literacy will sustain the initiative for another two years, after initial funding ends on March 31.
VIDA was originally based on the Fresno County Covid-19 Equity Project, a collaborative effort that includes more than a dozen community organizations, Fresno State, and UCSF Fresno, which similarly offers a awareness and support for communities that are disproportionately affected by Covid-19. "It was modeled on that first, and then we kind of took it in our own direction," says Michael Castro, community initiatives manager at the Community Foundation.
Community health workers have joined the healthcare ecosystem at a time when the system is under strain. Although they are not medical professionals, they are trained to educate and inform people about resources – including the safety and effectiveness of vaccinations and the availability of testing sites – and other resources. community, such as assistance with rental and utilities, or alternative housing sites for isolation. for those who test positive. VIDA workers recorded more than 4,600 vaccination appointments and administered more than 13,000 rapid tests.
The VIDA program started with over 100 community health workers and has since been reduced to around 50. But they were again hit by growing demand for their services during the omicron surge: In the first 10 days January, the VIDA project tested 3,160 people – 56% more than they tested in the whole month of December.
Unlike the doctors or clinicians you see by appointment, community health workers are on the go, going door-to-door or visiting popular grocery stores. Many workers are bilingual and some VIDA staff speak an indigenous Mexican language such as Mixco, Zapoteco and Triqui.
Community health workers are ordinary people – farm workers, students, church members, etc. These are people who live in the region and who understand the challenges and needs of their communities, those who "know how to best serve the community", says Castro, because they are in the community itself.
A VIDA Community Health Worker is Hufemia Ruiz Perez, a Seaside resident and student at Monterey Peninsula College. She has worked in different cities such as Salinas, Seaside and Gonzales, providing resources and free rapid tests. "What I love is being able to help the community," says Ruiz Perez. "And it lets them know that they are not alone and that they have our support."
She works for VIDA through The Village Project, one of VIDA's nine nonprofit partners, this one aimed at reaching the black community. "The Village Project has done a lot to ensure that everyone is treated equally with the VIDA project," adds Ruiz Perez.
Cecilia Rodriguez, VIDA coordinator and recent graduate of CSU Monterey Bay, knows firsthand how difficult it is to navigate the system when you don't know how to get the resources you need: her father broke his leg and ended up with a bill for $70,000. He eventually got help filing a disability claim and signing up for a payment system to pay his medical bills.
"It really inspired me," Rodriguez says, "because sometimes you get stuck in these obstacles and you don't know what to do."