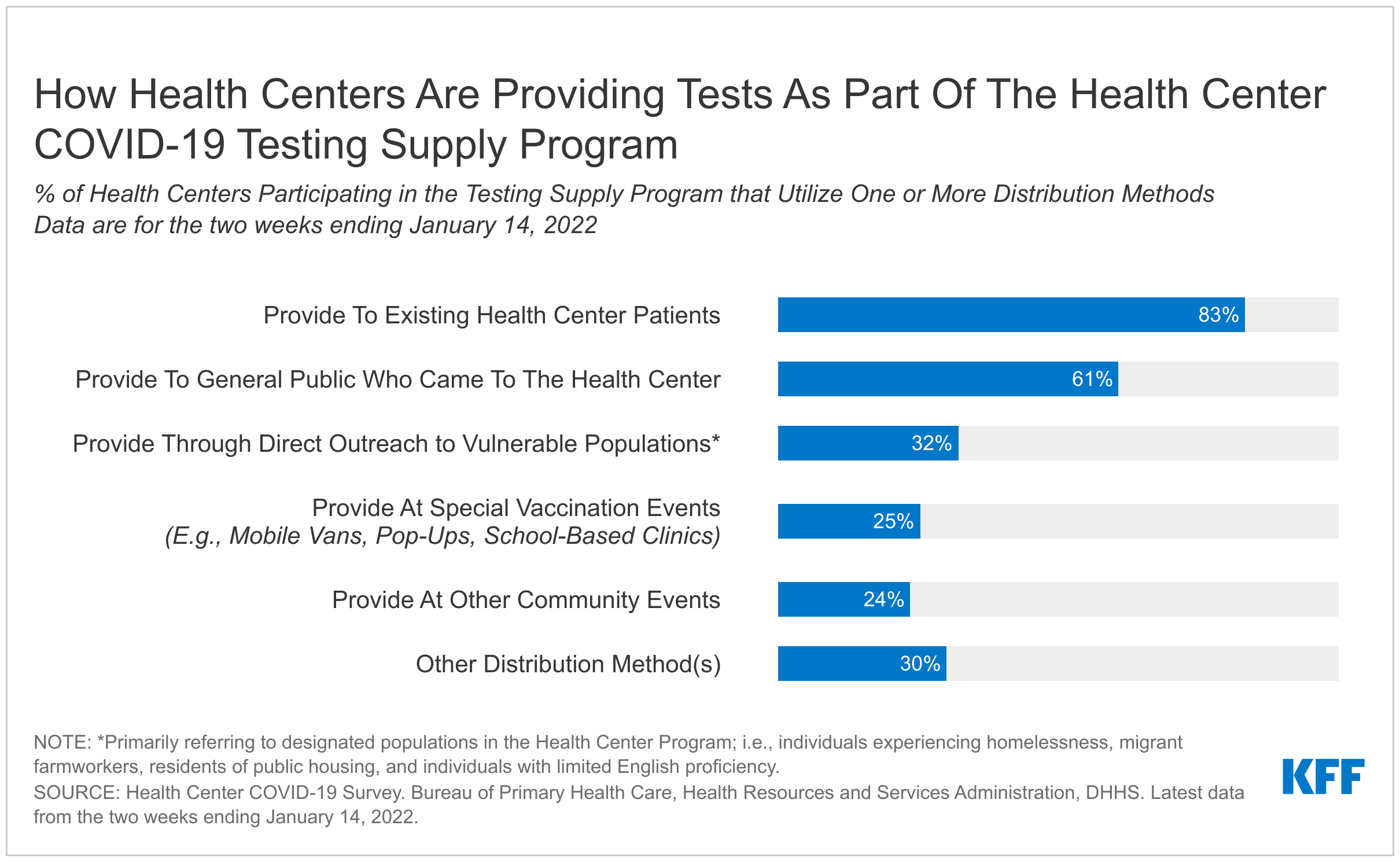 Community health centers are a key source of rapid home self-testing for COVID-19 for hard-to-reach groups
Across the country, many Americans are struggling to access COVID-19 testing amid the continued rise in cases driven by the new Omicron variant. The Biden administration has taken a multi-pronged approach to increase access to COVID-19 testing, including allowing each household to order up to four free at-home tests, increasing testing in schools, increasing the number of federal testing sites and requiring insurers to cover the costs of home testing. Additionally, under the American Rescue Plan Act (ARPA), state Medicaid and Children's Health Insurance Program (CHIP) programs are required to cover FDA-authorized home COVID-19 testing without cost sharing. As part of an effort to promote equitable access to testing, the administration also launched a test supply program in late December that set aside 25 millions rapid home self-test kits (i.e. 50 million tests because there are two tests per kit) to be distributed by the more than 1,300 community health centers.
The Health Centers are a nationwide network of safety-net primary care providers who have played an important role in the COVID-19 response, including facilitating equitable access to vaccinations. To date, health centers have administered nearly 19 million doses of the vaccine, more than two-thirds (68%) of which went to people of color. While health centers account for a relatively small proportion (4%) of total vaccinations administered nationally (about 530 million doses administered in mid-January), the role of the health centers has focused on immunization and providing primary care to some of the hardest to reach populations.
Like the immunization program, the goal of the health center COVID-19 Test Supply Program is to provide rapid COVID-19 self-tests to communities currently experiencing difficulty accessing COVID-19 testing. As part of this program, health centers will distribute self-tests to patients and community members, with a focus on populations most at risk for adverse effects related to COVID-19. While the 25 million test kits set aside by the administration for the program are much less of 28.6 million patients served by health centers in 2020, the the federal government expects the number of test kits for the program through May 2022. The self-tests provided under the new federal program are expected to complement other testing services that health centers have provided throughout the pandemic. Beyond the provision of free self-tests available through the new program, health center patients with Medicaid, CHIP or other coverage may have other options for accessing these free tests through pharmacies or other sources and health centers may be able to seek reimbursement from the public. and private payers, including Medicaid/CHIP reimbursement, for self-tests ordered for patients covered by these programs based on state rules.
Data collected through a bi-weekly survey conducted by the Health Resources and Services Administration (HRSA) show that health center patient demand for COVID-19 testing has recently increased (as in the United States). In the two weeks ending January 14, 2022, health centers reported administering an average of 794 PCR and antigen tests per responding health center, more than double the number reported in the December 17, 2021 survey. , about two-thirds (64%) of the tests were provided to people of color. These data indicate that supplying health centers with self-testing kits should further increase access to testing in underserved communities during the current period of high demand.
HSRA's Newest bi-weekly survey also shows how health centers have been distributing the self-test kits through the federal partnership program since early January. In the two weeks ending January 14, 27% of responding health centers reported distributing 1.08 million kits to community members (or approximately 2 million tests as each kit includes two tests). This number is expected to increase as more health centers sign up for the program and begin placing orders. Health centers also indicated that they distribute the self-tests in various ways (Figure 1). Most said they distributed the test kits to patients at the existing health center (83%) or to other community members who came to the health center (61%). About a third (32%) of health centers reported distributing tests through direct outreach to underserved populations, such as homeless people, migrant agricultural workers and low-income populations.
Going forward, health centers should participate in other efforts to slow the spread and reduce the severity of COVID-19 disease. HRSA has started the initial phase of a separate program which provides health centers with oral antiviral pills to treat patients who have recently tested positive for COVID-19 to reduce their risk of more serious disease. The initial phase of this program includes 200 health centers; HRSA will include more participants as the supply of antivirals increases. In the last bi-weekly health center survey (as of January 14), 59 health centers had started distributing antiviral pills under the new program, a number we expect will increase as the program continues. will intensify. In addition to providing self-tests and antiviral pills, the administration has recently started distribution of N95 masks through community health centers alongside retail pharmacies, another program that is expected to ramp up in the coming weeks.
Health centers are playing an increasingly important role in the country's pandemic response efforts (in addition to state and local efforts) and have been important players in coordinating response efforts quickly and more equitably. Taken together, federal health center partnership programs to administer vaccines, distribute self-testing kits, provide free N95 masks (in the coming weeks), and possibly prescribe and distribute oral antivirals are expected to strengthen center capacity. to help prevent, detect and treat COVID-19 in underserved communities.