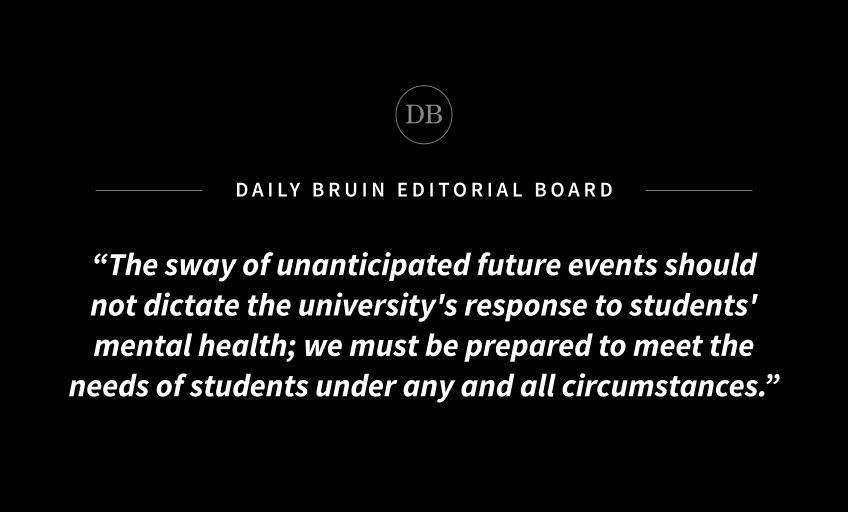 Editorial: Turbulent Times Demand Comprehensive Mental Health Resources
Editor's Note: Editorials are intended to serve as a starting point, not a conclusion, to the discussion. As part of The Daily Bruin's commitment to its readers, the Board of Directors hopes to present responsible and clear analysis of relevant events and news affecting the lives of those we serve, but our editorials do not represent the opinions of the Daily Bruin on issues as a whole. We encourage all readers to contact our board members and respond to our editorials.
This quarter has been stressful, to say the least.
Within five weeks, the Bruins began online classes, returned to in-person learning and faced the threat of a mass shooting.
But the stress this quarter has brought is nothing new.
Over the past 10 years, rates of depression, anxiety and serious suicidal thoughts have doubled among college students, Daniel Eisenberg, professor of health policy and management at UCLA, said in an interview with The New York Times. Eisenberg is also the principal investigator of a national mental health study.
The prevalence of mental health issues only worsened with the COVID-19 pandemic and most likely continued with the omicron variant.
According to the Center for Collegiate Mental Health at Pennsylvania State University, the biggest concern for students seeking counseling during the pandemic is loneliness or isolation.
Meanwhile, suicides during the pandemic have hit students hard across the country, leading to a noticeable increase in demand for counseling and mental health services. After a student suicide at Princeton University, the school saw a record 15% increase in demand, according to the New York Times.
When overworked students are isolated from their communities and have a normal college experience, it is critical that counseling service providers fully understand the seriousness of some students' mental health issues and go above and beyond to meet demands.
Vice Chancellor of Student Affairs Monroe Gorden Jr. seemed to understand that concern when he pledged in March not to reinstate session limits for UCLA counseling and psychology services in the fall.
It was therefore all the more discouraging to see CAPS reimpose session limits this fall and continue these limits during this tumultuous quarter.
Currently, students without a University of California Student Health Insurance Plan are limited to four to six sessions, while students with UC SHIP or as clinically indicated can receive between eight and 12 sessions, the gatekeeper said. UCLA spokesman Katherine Alvarado in an emailed statement.
CAPS will monitor and adjust session limits to meet demand and work to reduce wait times, Alvarado added.
Now is not the time to watch to see what is happening in mental health. UCLA should proactively invest in appropriate resources to prepare for the challenges students may face. Unforeseen future events should not dictate the university's response to student mental health; we must be prepared to meet the needs of students in all circumstances.
Students who need help with their mental health shouldn't have to worry about sessions ending before they're left in the dust, or dealing with wait times.
According to a CAPS brochure, students who have reached their session limit are advised to connect with their main insurance provider to find further treatment if needed. But this can discourage students from continuing, especially after they have already established a connection with a specific therapist. Going from therapist to therapist and jumping through hoops to find affordable and accessible treatment — while juggling school and extracurricular activities — isn't fair for students.
It is understandable that CAPS has a limited capacity. However, it is UCLA's duty to continue to pay attention to the force with which the pandemic has affected student mental health. The fall term may have seemed like the light at the end of the tunnel, but the increase in cases due to the omicron variant, among other challenges, has shown us the importance of staying vigilant.
It's a difficult time for everyone right now. On the contrary, the pandemic should have shown that people should be more empathetic towards others.
The Bruins need comprehensive mental health services and more support from their university – before a bigger crisis happens.