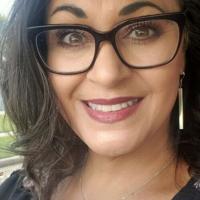 RCHD hires community health worker, Spanish interpreter | News
Meet Norma Ochoa
Hometown: I was born in Juarez, Chihuahua, Mexico and grew up in Tucson, Arizona. My husband and I moved to Oklahoma in 1992.
Hobby: I have six healthy, beautiful little babies that I love being with. I like to read and my big love is to cook.
Live: In the late 90s, I worked at the Tulsa-City Health Department and that's where I found my love for interpreting. I have since worked at Saint Francis Hospital and here at Rogers County Health Department for seven years as a receptionist and interpreter. I served on the board of the Rogers County Free Clinic and also worked at Hillcrest Hospital in Claremore.
Norma Ochoa is the new Community Health Worker and Spanish Interpreter for the Rogers County Health Department. Ochoa shares information about her new role.
1. What made you want to work for the Rogers County Health Department?
I had an amazing opportunity to return to RCHD in a different role than I did before as a Clerk, this time as a Community Health Worker. It suits me perfectly because it brings me back to my first love, which is to serve others!
I hope to help the Hispanic community find helpful resources for their families. Within this community, there is a language barrier that makes it difficult to find resources. So on May 5, we'll be hosting a Cinco de Mayo event at the Health Department to raise awareness that I'm here to help! We will have lots of fun and useful information for our community. Now will be a great time to meet with me, your community health worker, and other health department staff like your health educator, Chrissy Swift.
2. What do you hope to accomplish in your new role?
To reconnect with my community and district, be a voice for the health department, and be a voice and advocate for the people I serve. To let our community know that they are not alone! There are people working hard to provide important services beyond what many believe are available here at the health department. Small wins lead to bigger wins!
3. What is one thing you would like the public to know about your work?
This new role is so different from anything that has come before. I am here as a customer advocate and will be there every step of the way to assist my customers until their needs are met. I will continue to check and follow up with them so that we can provide services to the best of our abilities.
4. Have you always wanted to be a community health worker and interpreter?
I knew that I had always wanted to be of service to others in some way. I found my "specialty" in my own mother tongue. It gave me my purpose.
5. What accomplishment so far in your career are you most proud of?
There are still a lot of goals to reach and accomplish because this is all very new, but I'm so, so happy to have been accepted and appointed to this role and to be part of a bigger team with the same state of mind.