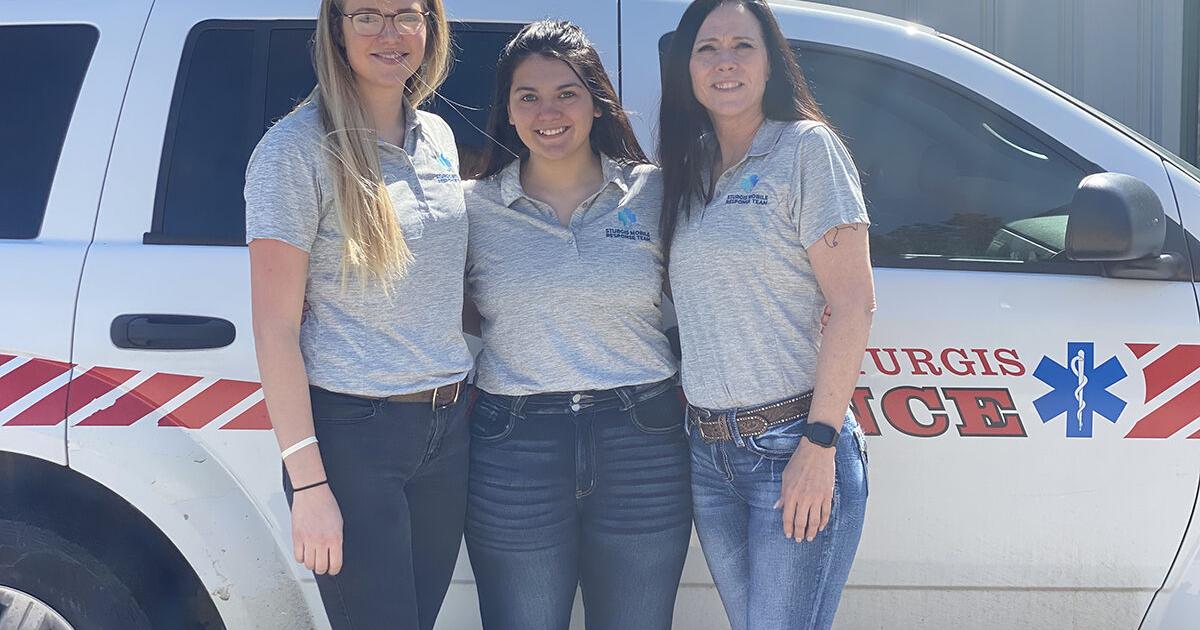 Sturgis to Launch New Community Health Program | Local News
STURGIS – A new program offered by the Sturgis Ambulance Service is expected to improve the quality of life for residents of Sturgis and the surrounding area.
The Sturgis Mobile Response Team (SMRT) is a new resource dedicated to filling gaps in out-of-hospital healthcare. The grant-funded program, launched June 1, consists of a medical director, three community health workers and four advanced care providers.
Community health workers would carry out home screenings and assessments on the order of a doctor. It is designed to reduce non-emergency 9-1-1 calls.
"Our main goal is to create a healthier community and to connect patients more with their physicians," said Shawn Fischer, director of Sturgis Ambulance Service.
The state of South Dakota launched a grant program two years ago that pays for SMRT staff training and program start-up costs, Fischer said.
The program is a way to bridge the gap between patients and doctors, she said.
An example might be a patient can't make it to their appointment because they don't have transportation, or maybe a patient isn't progressing like the healthcare providers had hoped.
The service is then ordered by the doctor. Fischer compared it to sending someone to physical therapy after a diagnosis.
"A doctor can ask us to go to the home and check the patient's living conditions. This may mean checking how they store their medication or if they have enough food," Fischer said. "It's something doctors can't see from the office. Often patients don't tell them the whole story.
CHWs do an initial assessment of the patient.
"There could be underlying issues that none of us know about," she said.
Sturgis Town Manager Daniel Ainslie said the Community Health Worker pilot program will hopefully improve the quality of life for residents of the Sturgis area.
"It should definitely be helpful to residents," Ainslie said at a recent town council meeting.
In the spring of 2021, the South Dakota Department of Health received a major grant from the CDC to support the development of a sustainable workforce of community health workers (CHWs) in South Dakota.
A portion of the grant funding has been allocated to fund applications, such as Sturgis's, for applications to support the planning, training, and development of a sustainable CHW program.
"We were one of the few states that didn't have this program in place," Fischer said.
Minnesota has had the program for nearly 10 years, and Fischer recently met with representatives there who started with CHWs and then moved on to community paramedics.
"It's something we're working on now with the state," she said.
The three staff members will work 40 hours per week with at least one on-call duty each weekend.
The service is currently reimbursable through Medicaid. And, the state is working with insurance companies Blue Cross & Blue Shield, Avera, and Sanford Health to get them on board for reimbursement.
"Hopefully it will spread from there," Fischer said.
The incentive for insurance companies is that community health workers help reduce unnecessary calls to the hospital as well as the number of times a doctor has an absent patient, Fischer said.
"If someone is readmitted to hospital within 30 days of being discharged for the same diagnosis, the hospital can be penalized up to 3% of their total health insurance per year," she said. .
It will also hopefully reduce the number of unnecessary calls to 9-1-1 for the ambulance service.
"We will have people calling us because they don't know how to turn on their oxygen. They just don't know how to operate the home machine," Fischer said.
Or, it could be a diabetic who doesn't understand how to administer an insulin injection, she said.
"They just don't do it right and their blood sugar goes out of control. When we get there, we find out," Fischer said.
Over the past five months, Stacy Keim of the Sturgis Ambulance Service
took online classes through Watertown-based Lake Area Technical College.
Part of the training is to take inventory of all the resources available to residents so that the SMRT team can draw on those resources as needed by the individuals in the program.
"It can be food, medical equipment or if they need help getting insurance or social security. We can help them register just about anything," she said. "We did a big project on community mapping. We found all the resources in Meade County that we could refer people to. »
Part of what Keim learned was through situational scenarios. She also learned how to conduct effective interviews.
"We learned to use open-ended questions in order to get the patient talking," she said.
Whitney Peterson and Marissa Rathert are two other people taking courses to become certified community health workers.
Peterson said she learned about the importance of CHWs filling the void and the important role they play in community health.
rather said she liked the focus on communication in the course.
CHWs may also attend doctor's appointments with patients.
"We can help them understand what the doctors are telling them during their appointment," Keim said.
The program is not just for seniors. It's for all ages, Keim said.
She gave the example of a new mom who might have difficulty breastfeeding her baby.
"We can help her learn how to do this or where to get help to make sure her baby latches well," Keim said.
All services offered by CHWs must be ordered through a physician.
"We work with the discharge planner here at the hospital. Some people want to be discharged so badly, but the discharge planner knows they don't understand what to do at home and they're back within a week," Fischer said. "She can ask the discharge doctor to have them checked by the community health workers."
Keim said she's "super excited" to get out there and help people get healthier and get them on the right track.
"I'm really, really excited about this program," she said.
A ribbon-cutting ceremony for the new Sturgis Mobile Response Team is scheduled for 2 p.m. on Monday, May 16 at the Sturgis Fire Station, 1901 Ballpark Road.
To read all the stories today, Click here or call 642-2761 to subscribe to our electronic edition or home delivery.