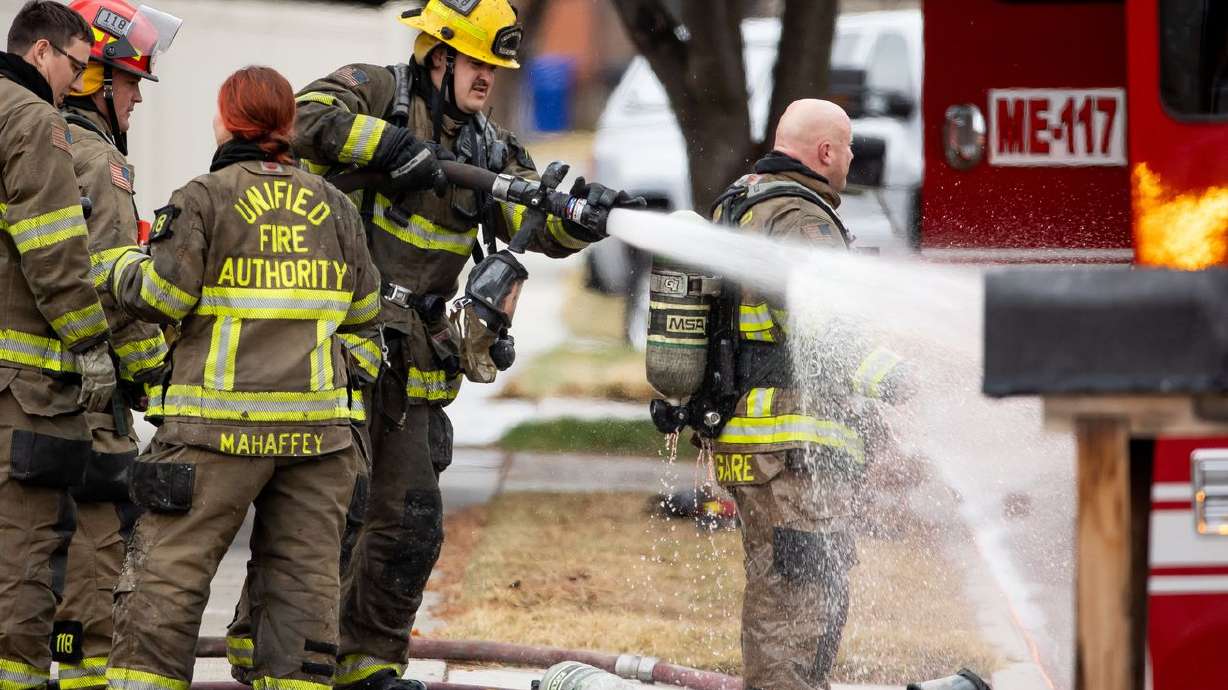 Utah lawmaker seeks $5 million to fund mental health resources for first responders and families
Firefighters clean up after battling a house fire in Taylorsville Saturday, March 13, 2021. A new Utah bill would require state agencies to provide mental health resources to first responders and their families. (Spenser Heaps, Deseret News)
Estimated reading time: 2-3 minutes
SALT LAKE CITY — A new Utah bill would require state agencies to provide mental health resources to first responders and their families.
Under HB23, the state would provide $5 million to agencies to help them start new programs or improve existing mental health programs, the bill's sponsor, Rep. Ryan Wilcox, R. -Ogden, at a meeting of the Law Enforcement and Criminal Justice Committee.
He hopes the bill "will establish what will now be a new all-level state policy on how we manage mental health and peer support for all of our first responders," Wilcox said.
The bill aims to "really make sure we don't miss anyone" affected by the strain that can come from being a first responder. It provides resources for the spouse and/or children of a first responder, as well as for retired first responders.
The bill covers law enforcement officers, emergency medical technicians, paramedics, firefighters, dispatchers, correctional officers and search and rescue officers, including volunteers.
Wilcox added correctional officers and search and rescue officers to the bill after hearing community feedback. Some might be volunteers, "but they're the same people we call in an emergency, when there's no one else to call," Wilcox said.
Mental health resources that all agencies would be required to provide under the bill include access to a mental health therapist through outpatient mental health treatment or peer support services.
The $5 million is not intended to keep programs running permanently, and local agencies will have to fund their own long-term programs, Wilcox said.
He said he originally asked for $10 million to fund the bill, but was offered $5 million by legislative leaders.
"There are many, many of our agencies already coming up with plans with what we're asking for," Wilcox said, adding that the funds will help get those programs off the ground.
When asked if the state could provide more funding for the programs in the future, Wilcox said his "eyes are wide open" for future funding, but other aspects of the bill are more vital.
Agencies like the Utah Department of Public Safety already have mental health programs in place, he noted.
"A lot of our big agencies are already doing this, so whatever form (funding) ends up taking in the long term, the political part right now is the most important part for me, that we get that in place" , did he declare.
Several first responder groups have come out in favor of the bill.
Retired Ogden Police Chief Randy Watt, representing Ogden and the Utah Association of Chiefs of Police, called the bill "remarkable."
It received a unanimous favorable recommendation from the committee, which means it will be sent back to the House for a vote.
×
Related stories
More stories that might interest you