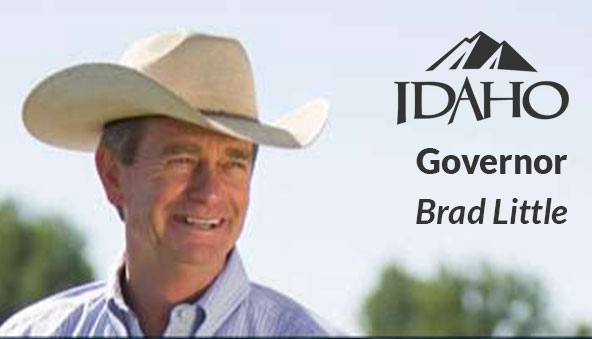 Idaho Promotes Safe Communities Through Additional Investments in Behavioral Health Resources
Boise, Idaho – Governor Brad Little today joined Idaho Supreme Court justices, lawmakers, members of his administration and others to highlight tens of millions of dollars in new funding to advance the state's behavioral health priorities.
The Legislative Assembly approved all of the Governor's Leading Idaho proposals for increased behavioral health resources this session. The proposals grew out of recommendations from the three-pronged Behavioral Health Council's strategic plan.
"Promoting safe communities is our top priority. Our vision is that Idahoans living with mental illness and addiction – and their families – receive the behavioral health care services they need when they need them. We believe that if this vision comes to fruition, our communities will become healthier and safer places," said Governor Little.
Governor Little highlighted the following behavioral health successes of his "Leading Idaho" plan this legislative session:
9-8-8 – Idaho is complying with the new national suicide and crisis lifeline. This is a unique opportunity to strengthen and expand the existing national lifeline for suicide prevention in Idaho. 9-8-8 is easy to remember and available to Idahoans in need. It directly connects Idahoans to compassionate, accessible care and support for anyone experiencing suicidal thoughts, a mental health or addiction crisis, or any other type of emotional distress. Calls and texts to 9-8-8 will go live on July 16, 2022.
Community Behavioral Health Clinics that stabilize people in crisis and provide needed treatment for those suffering from the most serious and complex mental illnesses and substance use disorders
Recovery centers that provide essential services to people recovering from behavioral health or substance abuse issues to receive the support they need
Psychiatric residential care facilities and programsallowing us to bring children back to Idaho who were receiving these services elsewhere
Safe drop-in centers for teenagers that provide a placement option for arrested or runaway youth and connect their families with long-term community resources, avoiding having to enter the juvenile justice and child protection systems
Youth crisis centers statewide for youth safety, stabilization and immediate case management services
Details on priorities are available here: https://gov.idaho.gov/wp-content/uploads/2022/04/ibhc-leading-idaho.pdf
Additionally, Governor Little applauded the passage of Senate Bill 1327, which properly defines a person with mental illness and restores the safety net for involuntary commitments to ensure those who may be in crisis have full access to care, as well as House Bill 699, which ensures that first responders, our front line for traumatic events, can count on the support of specialist peers – a proven and effective tool in the treatment of health behavioral – while maintaining confidentiality.
The three-pronged Behavioral Health Council was created in 2020. The five justices and legislative leaders of the Idaho Supreme Court joined Governor Little in signing an executive order creating the council. At this time, the Idaho Supreme Court also issued a proclamation, and the legislature passed a concurrent resolution supporting the council.
"This is a historic, three-pronged collaboration to study the state's behavioral health service delivery system and improve care for Idahoans with mental health and substance abuse disorders. Never before have the executive, legislature and judiciary come together to achieve a common vision for behavioral health," Governor Little added.
# # #