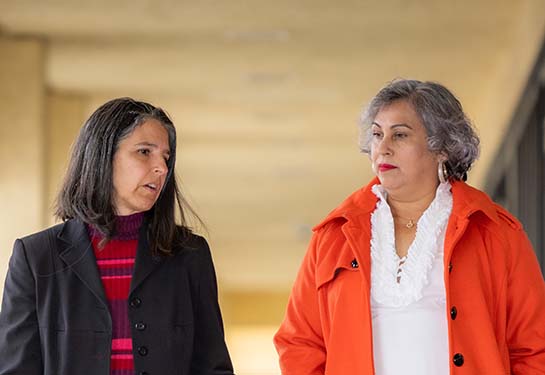 Community health educators help Latinas access breast cancer prevention and treatment
(SACRAMENTO)
The story of breast cancer in Hispanic or Latina women is a story that has not been fully told or researched. Overall, breast cancer rates in this population are 28% lower than in non-Hispanic white women, but that doesn't tell the full picture.
Due to health disparities that prevent access to adequate and affordable health care, breast cancer in Latinas and Hispanic women may remain undiagnosed until later stages when it is more difficult and expensive to process. This is one of the reasons why Hispanic women and Latinas are about 30% more likely to die from breast cancer than non-Hispanic white women. They are also more at risk of triple negative and positive breast cancers for human epidermal growth factor receptorswhich are more aggressive than other types of breast cancer.
The UC Davis Comprehensive Cancer Center wants to improve the chances of detection and survival for Hispanic and Latino women by reaching out to them in the community and connecting them to resources for breast cancer prevention, screening, and treatment.
Tu Historia Cuenta, which in Spanish means "your story matters," is the name of a new program led by Laura Fejerman, co-director of the cancer center's new Women's Cancer Care and Research Program (WeCARE). The project examines hereditary breast cancer risk and screening among Hispanic and Latino women in Northern and Southern California and provides familial risk assessment and navigation to services.
Fejerman, who is also co-director of the Latinos United for Cancer Health Advancement or LUCHA cancer center, said Latinas are less likely to seek genetic counseling or breast cancer screening tests than non-Hispanic white women. They also have lower mammography screening rates.
"Low-income Latinos are being left behind because they are unaware of the role genes play in breast cancer and, if they do, they often don't have access to genetic counseling and testing" , Fejerman said.
Inspired and in partnership with Ysabelle Durona Latina lawyer and founder of The Latin Cancer Institute in San Jose, Fejerman designed a specific program focused on hereditary breast cancer as a community partnership. Health educators known as "promoters" are trained to educate Latinas on how to access resources for breast cancer screening and treatment.
Fejerman said the UC Davis Comprehensive Cancer Center wants to better serve Hispanic and Latino cancer patients and their families, and that starts with developing community relationships that can overcome language and cultural barriers. Promoters conduct outreach activities in Spanish and spend about an hour talking with individual Latinas.
During the COVID-19 pandemic, the program began hosting hereditary breast cancer education sessions in Spanish via Zoom so progress could continue despite social distancing measures.
the California Initiative to Advance Precision Medicinepart of the Governor's Office of Planning and Researchfunds Tu Historia Cuenta, which UC Davis, UC San Francisco, and City of Hope co-operate.
Fejerman said Tu Historia Cuenta is the first step in reducing health disparities and addressing the burden of breast cancer that currently exists in the Hispanic and Latino community.
I love the idea of ​​helping women like me, educating them and building relationships while connecting them to resources that give them access to care.—Mary González.
Meet a promoter
Maria Gonzalez is a promotora — a community health educator. The Centers for Disease Control and Prevention recognizes promotores de salud, also known as promotoras, as important lay health workers who are trusted and empowered to educate and connect their peers to information and resources that can save lives.
"Maria represents the people she's trying to help," said Fejerman, who depends on Gonzalez and three other promoters in the Sacramento and San Francisco areas to conduct outreach to Hispanic and Latina women in as part of her breast cancer project Tu Historia Cuenta.
Gonzalez, 49 and a mother of five, knows the importance of connecting her family, friends and neighbors to the resources that keep them healthy. She first helped other parents of children with special needs navigate access to resources, including those provided by the UC Davis MIND Institute after receiving care for her child at the research center and treatment of neurodevelopmental disorders.
Now, after battling breast cancer eight years ago, Gonzalez works for an agency called Visión y Compromiso which was contracted by the Tu Historia Cuenta program. She was trained to educate members of her community about hereditary breast cancer and refer them to screening services.
"I love the idea of ​​helping women like me, educating them and building relationships while connecting them to resources that give them access to care," Gonzalez said.
One such program is the state-funded program Every woman matters screening service, offering free mammograms to underserved women. Typically, Gonzalez connects with 15-20 women a month, speaking to them in Spanish through pre-arranged Zoom meetings.
Gonzalez gives presentations at churches, schools, and community group meetings, where she enrolls women in classes. Thanks to Fejerman, who translates her Spanish into English, Gonzalez said she usually doesn't have to reach out to members of the community. Women usually find her because she is well known in the community and seen as a key conduit for health care resources.
"People mostly know me by word of mouth," Gonzalez said. "People are already coming to me for health information."
The identity of the women interrogated by Gonzalez is kept secret.
"Gonzalez is a crucial link in growing the network of trust in our community," Fejerman said. "I believe we will finally make progress in addressing the burden of cancer in Hispanic and Latino communities by leveraging proponents like Gonzalez who have a strong passion and commitment to healthier communities."
UC Davis Comprehensive Cancer Center
The UC Davis Comprehensive Cancer Center is the only National Cancer Institute-designated center serving the Central Valley and Interior of Northern California, an area of ​​more than 6 million people. Its specialists provide compassionate and comprehensive care to more than 100,000 adults and children each year and have access to more than 200 active clinical trials at any one time. Its innovative research program engages more than 240 UC Davis scientists who work collaboratively to advance the discovery of new tools to diagnose and treat cancer. Patients have access to state-of-the-art care, including immunotherapy and other targeted treatments. Its community outreach and engagement office addresses disparities in cancer outcomes between diverse populations, and the cancer center offers comprehensive education and workforce development programs for the next generation of clinicians and scientists. For more information, visit cancer.ucdavis.edu.