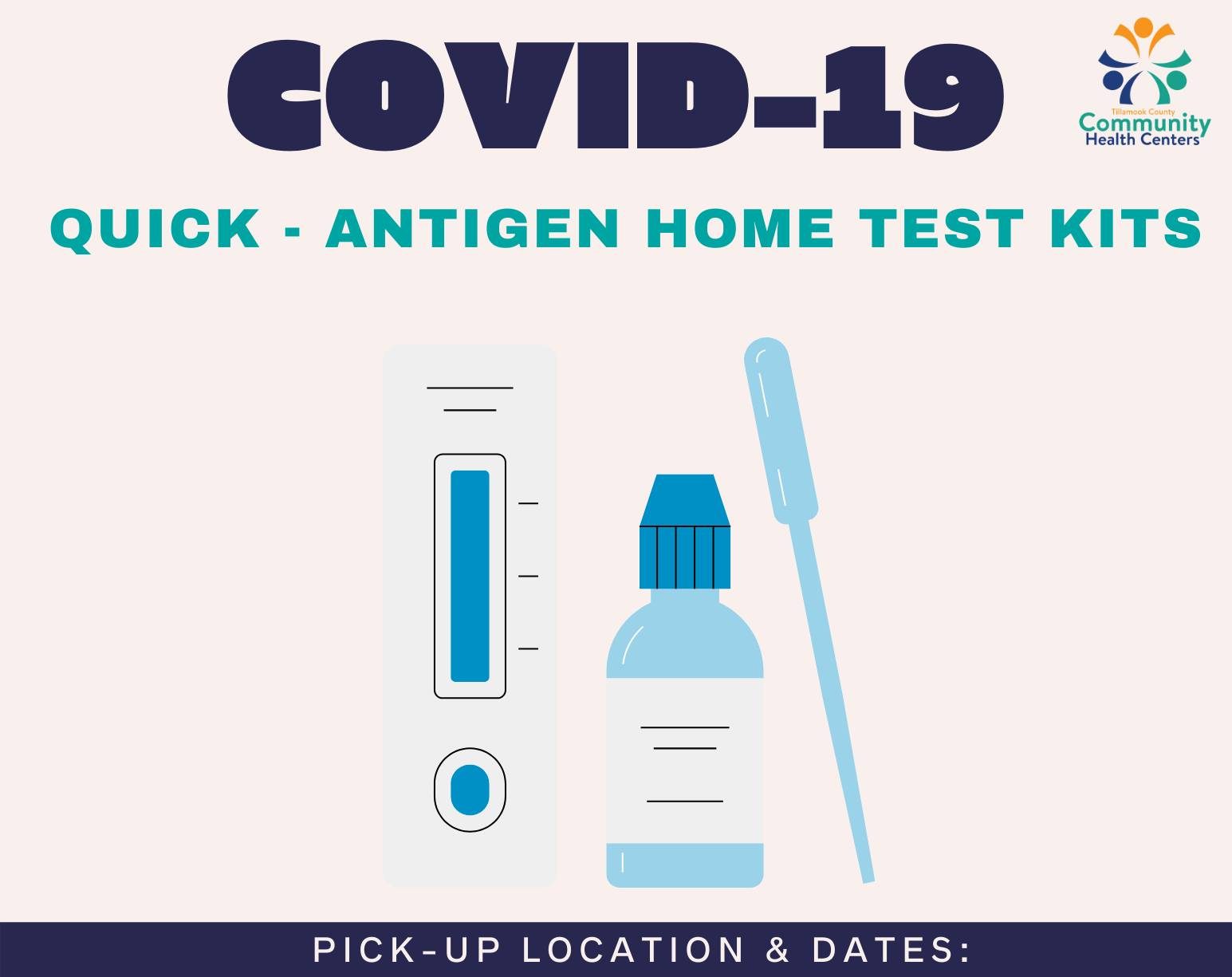 FREE COVID-19 Home Testing Kits Available for Pickup Next Week in Tillamook County, Later Hours – Tillamook County Pioneer
These COVID-19 home testing kits have been made available to our agency to increase access to COVID-19 testing for populations and groups of people who have been disproportionately affected by COVID-19.
For those wishing to pick up a COVID-19 home test kit, kits are available for pickup at the following locations and days:
central county
Monday, February 07, 2022, 2-4 p.m.: The Red Barn at Tillamook County Creamery Association, 4165 Hwy 101 N, Tillamook, OR 97141 (enter via Latimer Rd. not Highway 101).
Monday, February 07, 2022, 4:30-6:30 p.m.: Tillamook County Fairgrounds Convention Center, 4603 3rd St, Tillamook, OR 97141.
South County
Tuesday, February 08, 2022, 2-4 p.m.: Nestucca Rural Fire District Hebo Fire Station 87, 30710 Highway 101 S, Cloverdale, OR 97112.
Tuesday, February 08, 2022, 4:30 p.m. to 6:30 p.m.: South Tillamook County Library, 6200 Camp St, Pacific City, OR 97135.
North County
Friday, February 11, 2022, 2 p.m. to 4 p.m.: Rockaway Beach Chamber of Commerce, 103 S 1st St, Rockaway Beach, OR 97136.
Friday, February 11, 2022, 4:30 p.m. to 6:30 p.m.: St. Catherine's Episcopal Church, 36335 Hwy 101 N, Nehalem, OR 97131.
Due to limited supply, a set number of test kits will be provided to each location, and once the supply is depleted, staff who will be in a Tillamook County Community Health Center SUV with signs for the pickup, will leave the location. Only one test kit containing two tests will be provided per person at collection points.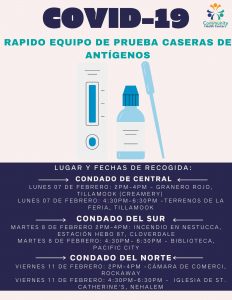 If the Tillamook County Community Health Center receives additional COVID-19 home testing kits, additional dates may be added to the schedule above. An update will be provided when available. Up to four free COVID-19 home test kits are available for every household in the United States, delivered to your home using the federal site: https://www.covidtests.gov/.
Testing is critically important to help reduce the spread of the virus that causes COVID-19. If you have symptoms or have been exposed to a suspected or confirmed person
ed COVID-19, you should be tested, regardless of your vaccination status. You may also consider testing yourself/at home for COVID-19 immediately before an activity to see if you are positive for COVID-19. You must self-isolate if you test positive. COVID-19 home testing is one of many risk reduction measures, along with vaccination, masking and physical distancing, that protect you and others by reducing the risk of spreading COVID-19. More information about the CDC's self-test/at-home can be found here: https://www.cdc.gov/…/2019-ncov/testing/self-testing.html.
For more information on the iHealth COVID-19 Home Test Kit, please see: https://sharedsystems.dhsoha.state.or.us/DHSForms/Served/le4033.pdf?fbclid=IwAR1LY9Cp3rft90NNFEZulxv9wFIB2kf5D5AvJbMcIwt76dDZuRTJWSiDrJk
If you have a positive test result, please report your test result as soon as possible to the Oregon Health Authority at: Oregon.gov/positivecovidtest or by calling the OHA COVID-19 Hotline at: 866-917-8881 . Resources and information on isolation and quarantine guidelines can be found at the Oregon Health Authority site listed above.
There are safe and early treatment options for COVID-19, including oral antiviral medications. Some treatment options should be started as early as 5 days from the date of the positive test. If you have a positive COVID-19 test result and have mild to moderate symptoms such as fever, shortness of breath or cough, please contact your health care provider immediately, and especially if you have any chronic conditions that may expose you at higher risk. become very ill from COVID-19. If you don't have a health care provider, call Adventist Pharmacy at 503-815-2341 to speak with a pharmacist. Consider establishing care with a provider using the following contacts: Tillamook County Community Health Center (503-842-3900), Adventist Health Tillamook (503-842-5546) or Rinehart Clinic (1-800-368 -5182).
If you have questions related to COVID-19 or need additional support, please contact the Public Health Nurse Line at 503-842-3940. Calls are returned within 24 business hours. If you need a test at a health facility, COVID-19 tests can be searched through:
Tillamook County Community Health Center (503-842-3900)
Adventist Health, Tillamook (503-842-5546)
Rinehart Clinic (1-800-368-5182)
Adventist Health, Tillamook – Manzanita Emergency Care (503-368-6244)
We understand how difficult this time is for everyone. We ask all county residents to be very mindful of gathering choices and to follow current public health guidelines to slow the spread of COVID-19:
Follow advice on face coverings.
Wash your hands often with soap and water for at least 20 seconds.
Avoid touching your eyes, nose or mouth with unwashed hands.
Keep 6 feet away from those outside of your immediate household.
Stay home if you feel unwell.
Choose to get vaccinated against COVID-19 if you are eligible and not yet vaccinated and choose to receive a booster dose if you are fully vaccinated when you are eligible.
The Tillamook County Equity Plan is available on the Oregon Health Authority's COVID-19 page at https://govstatus.egov.com/OR-OHA-COVID-19 under "county equity plans".


About Tillamook County Community Health Centers
TCCHC has been a federally licensed health center since 1994, providing medical, dental, behavioral and public health services. Please visit our website at https://tillamookchc.org/ or on Facebook at TillamookCHC.